Call it a double chin, "tech neck," or submental fullness, Kybella is the first FDA-cleared injectable option for reduction of fat under the chin and we are among the first in the country to have it. (Latin for chin is mentum, so "under the chin" = submental) Developed by Kythera, Kybella uses a naturally occurring molecule that specifically disrupts fat cells. If you are considering Kybella, here are some things to know:
Kybella works in a high percentage of patients, but not all. In clinical trials, about 80% of patients were satisfied with their outcome.
Multiple treatment sessions are required. Most patients will need 2-4 sessions, 4- 8 weeks apart.
The fat-reduction effect of Kybella is expected to be permanent once the full treatment series is completed.
Expect noticeable swelling in the area for 3-7 days as the fat cells are broken apart and re-absorbed into the body. There are no restrictions on activity however.
Cost will vary depending on the size of the area being treated and the number of sessions required in order to reach the desired effect.
We use a local anesthetic so discomfort is minimal.
In clinical trials, Kybella was called ATX-101. One advantage of Kybella as compared to liposuction is the potential for some tightening of the area though this is variable. It is not an alternative to a surgical facelift or necklift but it appears likely to be a popular option for the right patient.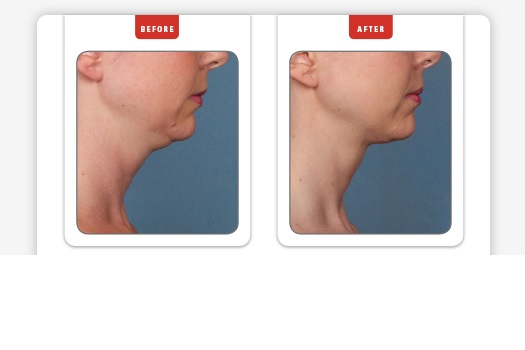 Unretouched photos of clinical trial patient taken before and after 4 treatment sessions with KYBELLA™. Individual results may vary.