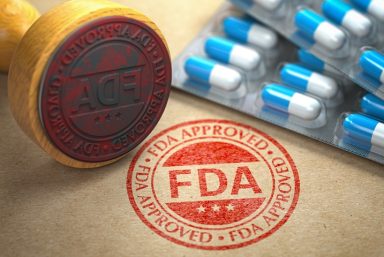 Recently the FDA has been cracking down on a practice called "off-label," which is when a drug or device approved for a specific indication is used for something else. It's a common practice, especially in anti-aging and much of plastic surgery. Take Botox for example; it was first approved in 1991 for treatment of spastic muscles around the eye causing strabismus or "lazy eye," which remained its on-label
indication for more than a decade. It was apparent early on that there was an effect on wrinkles around the eye as well, and it became immensely popular for that. Today, many people don't realize that Botox is used for anything else!
Why off-label is on-topic
The FDA approves drugs and devices for specific purposes based on clinical studies sponsored by the manufacturer. What the FDA does not regulate is the practice of medicine, so once something is approved, a licensed physician can prescribe it for any other use based on their clinical judgment. If I want to use Botox for wrinkles in an area not specifically on-label, I am in the clear as long as it works and I'm not causing trouble. But the manufacturer can only promote it for the on-label indication. When Allergan saw the scale of the market for cosmetic use, they invested millions in clinical trials to get approval for Botox Cosmetic®. Same drug, different labeling.
It's a similar story for a lot of drugs and medical devices. Minoxidil for example was developed as a drug for high blood pressure before the unanticipated side-effect of hair growth suggested a different use, and Rogaine was born. The inexpensive diabetes medication metformin is emerging as a strong candidate for anti-aging, though you won't see that anywhere on the label. PRP ("vampire facelift") – off label. Acellular dermal matrix products (e.g., Alloderm, Strattice) were developed for burn reconstruction but didn't pan out; fortunately a few innovative plastic surgeons (including me, insert pat on the back here) tried it off-label in breast surgery and it went on to revolutionize the practice breast reconstruction and revision breast surgery. Yet despite a wealth of clinical research on the use of these products in breast surgery, in 2019 the FDA asserted that they should not be marketed for that purpose because they are approved only for soft tissue support. As if the breast isn't soft tissue!
Finding balance between innovation and regulation
It would be easy to dismiss this as regulatory static, but there are good reasons for the system. Stem cell treatments sound sophisticated, but patients have been gravely harmed with inadequately tested procedures. Regulators point to these types of cases as reasons for enhanced oversight. But there are just as many examples of drugs and devices being repurposed to the benefit of patients and at lower cost than it would be to start from scratch. Often the issue is the lack of a sponsor ready to pony up the expense of clinical trial for something already being used. A lot of cutting edge stuff is in this category, from anti-aging peptides to breakthrough treatments that promise to eliminate scars. Done right, off-label is where progress is made.