Longevity Medicine in Seattle, WA | PHASE Plastic Surgery
Longevity Medicine, also known as anti-aging medicine or regenerative medicine, refers to a branch of medicine that works to prevent and treat age-related illnesses. Various factors can influence a person's biological age, including lifestyle choices, genetics, and exposure to environmental factors. By understanding and targeting the specific factors contributing to a patient's accelerated aging, our renowned board-certified plastic surgeons, Dr. Richard Baxter and Dr. Donald Brown can help slow down the aging process and improve their patient's quality of life.
Dr. Baxter's interest in Longevity Medicine started years ago when he was researching the anti-aging and health effects of wine. Through his research, Dr. Baxter discovered that the "French Paradox" was about not just heart health, but how wine drinkers had lower rates of all known aging-related diseases. After publishing two books on wine and health, Dr. Baxter focused more directly on the rapidly developing science of anti-aging. He learned from the most renowned experts around the globe and became one of the first to complete a certificate course on Longevity Medicine. He decided it was time to bring this amazing research into clinical practice at PHASE Plastic Surgery.
Continue reading to learn more about how Longevity Medicine can benefit you. Schedule your personalized consultation with Dr. Richard Baxter to explore preventative and anti-aging treatments offered at PHASE Plastic Surgery.
Understanding Biological Age
Your biological age is not the same as your chronological age. When you see someone who looks younger or older than their actual age or seems unusually fit or frail, there is a record of what drives those features in your genome. When your body is aging faster than the calendar's progression of time, meaning you see more wrinkles, fine lines, muscle fatigue, or volume loss in your skin, you are experiencing what's known as "accelerated biological aging." There is more to this than just appearance; accelerated biological aging is also the number one predictor of chronic diseases. 
Luckily, lifestyle and medical interventions have been shown to help slow, stop, and even reverse the biological aging processes of the body. At PHASE Plastic Surgery, we use highly advanced technology, research-based guidance, innovative anti-aging treatments, and technical skill to alter the pace at which your body is aging, giving you the power to take control of your biological and chronological age, health, and overall wellness. We call it biohacking longevity.
The Technology: TruDiognostics™ and Skin Age Analysis from Haut.ai
At PHASE Plastic Surgery, our Longevity Medicine practice uses two forms of technology to measure our patient's biological age: TruDiagnostic Epigenetic Age Test and the Skin Age Analysis from Haut.Ai. Both of these technologies were developed using AI-based algorithms from massive data sets, which help us recommend or prescribe the best supplements, medications, and procedures known to impact biological aging.
When combined with our skincare products, such as OneSkin, and other anti-aging and skin rejuvenation treatments, such as microneedling with exosomes, we can tailor a treatment that can reverse signs of aging in your skin, as well as slow the aging process itself in your skin.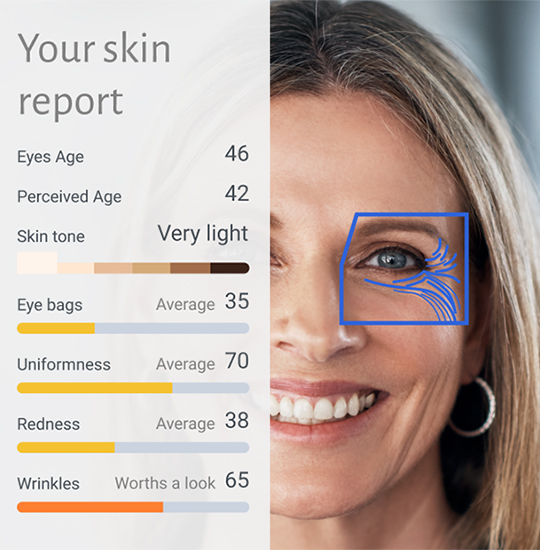 Trudiagnostics Epigenetic Age Test
The Epigenetic Age Test is rooted in proven scientific research that offers patients and physicians the most advanced epigenetic analysis currently available. With this technology, we aim to improve patient's quality of life by arming them with novel biological insights that enable them to make the best lifestyle and medical decisions through the information in the epigenome. This software operates your genetic hardware. With just a simple blood sample, the TruDiagnostic test reveals whether your DNA is aging more rapidly or slower than expected, key metrics about your biological age, the current function of your immune age, and your current rate of biological aging. With this information, Dr. Baxter can prescribe specific treatments, procedures, or medications that target exactly where your body needs the most assistance.
Skin Age Analysis from Haut.AI
With our Haut-AI-powered skin analysis tool, we take a photo which is then analyzed with an artificial intelligence algorithm trained on a huge database. This gives us your skin age, which provides a baseline from which we can measure the results of treatments and products.
Meet Our Board-Certified Plastic Surgeons
Discover personalized and transformative aesthetics with our expert plastic surgeons, who combine artistry and scientific aptitude to make a difference. PHASE Plastic Surgery and Longevity Institute offers a personalized and collaborative approach, state-of-the-art care, and an on-site, accredited ambulatory surgery facility.  Schedule a consultation today and embark on a journey towards natural beauty and personal enhancement!
Anti-Aging Skin Treatments at PHASE Plastic Surgery & Longevity Institute
Once we have thoroughly analyzed your skin, we'll discuss your options for anti-aging treatments offered at PHASE Plastic Surgery. Our skin revitalizing treatments were developed to combat a wide array of skin issues and offer long-term anti-aging benefits.
Microneedling with exosomes is a cosmetic treatment that rejuvenates the skin and reduces signs of aging. This treatment has been gaining popularity in the aesthetic industry due to its ability to improve the appearance of this skin in just one or two treatments. Using a handheld device equipped with hundreds of tiny needles, the device creates micro-channels in the skin that stimulate the body's natural healing abilities and encourage collagen production. Then, an exosome serum is applied, and the microchannels allow the serum to penetrate even deeper into the skin's surface for even further rejuvenation.
Exosomes are nanoparticles that the cells in our bodies produce naturally. Exosomes from stem cells contain highly concentrated amino acids, peptides, and natural growth factors. When combined with microneedling, exosomes can promote the production of new collagen and elastin, providing the skin with renewed elasticity and firmness.
Throughout Dr. Baxter's skin and anti-aging research, he has found that botulinum toxin A, or Botox®, has also been shown to have anti-aging effects through a senolytic process. Botox injections are not only exceptional at relaxing the muscles in the face that cause dynamic wrinkles, but they can also trigger the body's production of collagen and prevent the further development of wrinkles and fine lines.
At PHASE Plastic Surgery, we are excited and honored to partner with the innovative skincare line OneSkin for not only the incredible benefits the line offers to patients but for their science-based research and mission to help patients age in a healthy and vibrant way. The team of researchers behind OneSkin studied the evolution of cells throughout different stages of the aging process. Their research found that cells become senescent when they've accumulated enough intrinsic and extrinsic damage, which sends them into a state of dysfunction. The cells secrete harmful biochemicals called senescence-associated secretory phenotypes once they become senescent, accelerating the aging process.
The scientists behind OneSkin spent over seven years developing the OS-01 peptide in the lab. This therapeutic molecule reverses the skin's biological age by preventing the further spread of senescent cells, allowing the skin to look and feel years younger while also preventing the further spread of aging.
Explore the Advancements in Longevity Medicine at PHASE Plastic Surgery
Advancements in anti-aging have come a long way. Through years of research, studies, and clinical trials with some of the brightest minds in science and medicine, it is now considered a legitimate specialty. Dr. Richard Baxter has been following longevity science for decades now, and through his research and findings, he's passionate about getting it out into the world and helping his patients find long-lasting solutions that improve their aesthetics and overall quality of life.
For more information about longevity medicine at PHASE Plastic Surgery, contact our office to schedule your personalized consultation with Dr. Baxter to discuss your options. You can also follow along with Dr. Baxter's research by reading his detailed e-book on Longevity Medicine here.