Facelift & Neck Lift in Seattle, WA | PHASE Plastic Surgery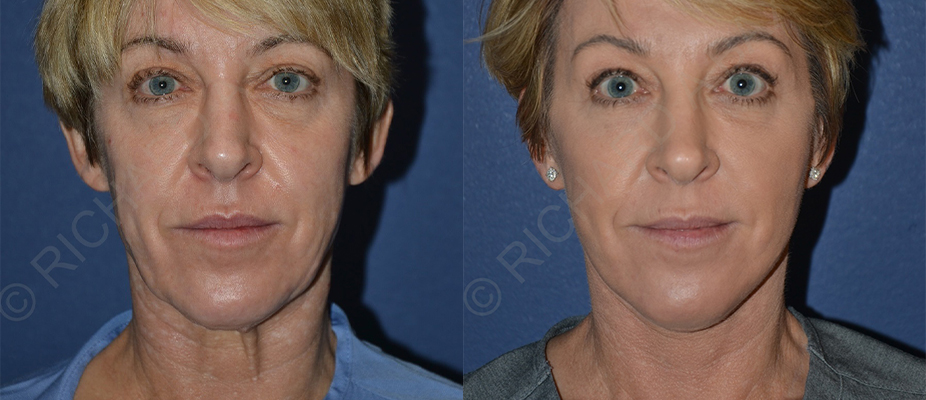 The skin on our face and neck is the most exposed to the elements, so it is often the first area to show signs of aging. This is compounded by laxity in the deeper facial tissues and volume loss. These changes cause the face to sag, especially along the jawline and neck. To help restore a more youthful structure, facelift surgery works by repositioning the deep facial tissues. At the same time, a neck lift reshapes and tightens the skin and underlying platysma muscle in the neck to create a tighter look for a leaner, more youthful neckline. 
For many years, there has been a stereotype surrounding facelift surgery. As a result, some people have been afraid to pursue having a faclift for fear of getting the "pulled" look. Fortunately, at PHASE Plastic Surgery in Seattle, WA,  our board-certified plastic surgeons, Dr. Richard A. Baxter and Dr. Donald Brown, utilize techniques and advanced methods that aid in a faster recovery and more natural-appearing facelift results.
The keys to creating natural results are because of our surgeons' ability to customize the operation to meet each patient's specific needs, a deep understanding of the aging process, and advanced surgical techniques such as regenerative fat grafting. Contact us today to schedule your face and neck lift consultation. Our office is located in Northern Seattle, just outside the hustle of the city, for easy, convenient access.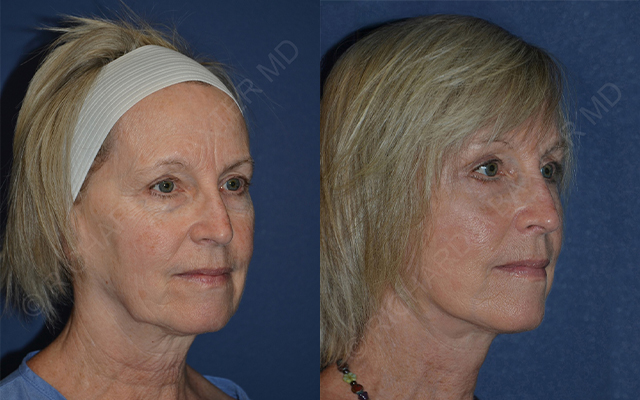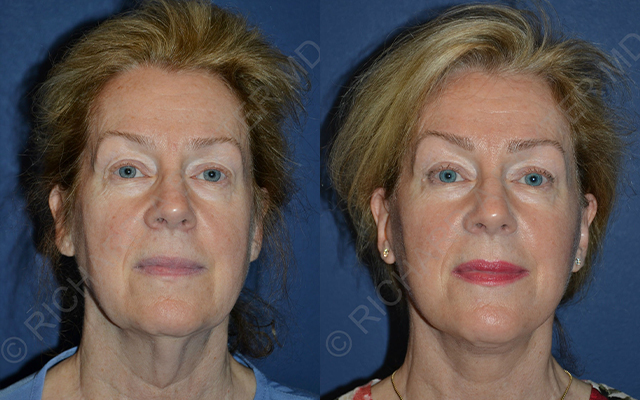 A rhytidectomy, commonly referred to as a facelift, is a facial plastic surgery procedure used to reposition muscle, skin, and tissue to address common signs of aging, such as:
During a facelift consultation, we will ensure you're a healthy candidate for surgery and discuss other standard options that may complement your facial rejuvenation journey. For example, many patients choose facial fat grafting to help restore volume loss, especially around their cheeks and underneath their eyes. Eyelid surgery is also commonly paired with a facelift.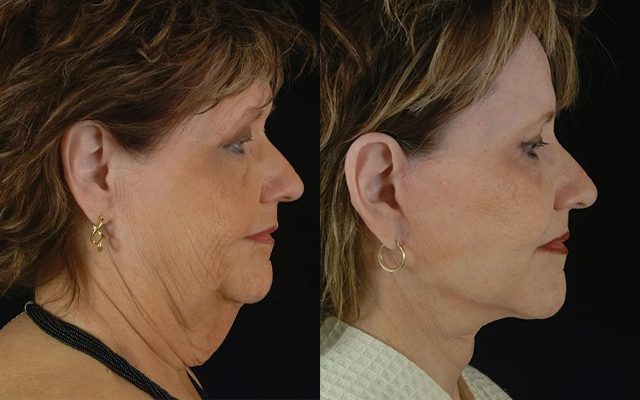 A neck lift, medically referred to as a lower rhytidectomy or submental lipectomy, is another facial rejuvenation procedure designed to improve signs of aging from the jawline down to the clavicle. Due to it being a highly versatile procedure, it can be approached in various ways. For example, our surgeons may use a combination of these techniques during your neck lift:
Similar to a facelift, during a neck lift consultation,  your eligibility for surgery will be carefully determined after a thorough review of your medical history and expectations. Once we know that you're a good candidate, we'll begin the collaborative process of designing your unique combination of surgical and non-surgical techniques that work best for your situation.
Why Should I Choose PHASE Plastic Surgery for My Face and Neck Lift Surgery?
When you choose PHASE Plastic Surgery, you will receive state-of-the-art care in terms of techniques and technology used and how each of our doctors and staff relates to your struggles, insecurities, and goals. Our approach is personalized and collaborative to help you feel the most at ease, comfortable, and confident, as each decision made is entirely made by you.
As an art major with a science aptitude, Dr. Baxter took his background in art and applied it to his surgical approaches allowing him to use creative problem-solving skills and an artistic lens to the masterpieces he creates through surgery. One of the most significant rewards he finds in his profession is seeing the joy on his patient's faces when they experience their results for the first time.  
World-class plastic surgeon, Dr. Brown, is board certified by the American Board of Otolaryngology and the American Board of Plastic Surgery.  His goal with all surgery is to achieve a natural result and avoid the excessively over-operated look.
Meet Our Board-Certified Plastic Surgeons
Discover personalized and transformative aesthetics with our expert plastic surgeons, who combine artistry and scientific aptitude to make a difference. PHASE Plastic Surgery and Longevity Institute offers a personalized and collaborative approach, state-of-the-art care, and an on-site, accredited ambulatory surgery facility.  Schedule a consultation today and embark on a journey towards natural beauty and personal enhancement!
What Are the Benefits of Facelift and Neck lift Surgery in Seattle, WA?
Face and neck lift surgery is primarily considered a restorative surgery because it both tightens and smooths the skin that frames your face. Sagging tissue around the jawline, neck, and cheekbones can hide the curves and definition of your face making you appear older or even heavier than you are. During a face and neck lift procedure, we can lift the cheeks to improve the definition of your cheekbones, while a neck lift will remove excess skin and fat along your jawline, creating a more defined and youthful neckline. Enhancing your face and neck can help you look younger, thinner, and healthier.
Natural, Long-Lasting Results
A common misconception that some people have when it comes to facial plastic surgery, especially facelifts, is that their results will look fake and unnatural. Our plastic surgeons take extensive care and precautions to ensure this is not the case. Our advanced methods, thorough knowledge of facial anatomy, and state-of-the-art techniques equip him to create results that look and feel natural. Our mission is to enhance the features you have rather than change them.
Target Various Signs of Aging in One Step
A face and neck lift operation allows you to treat multiple signs of aging in one surgery rather than choosing which issue you'd like to target more. For example, a face and neck lift will address sagging skin, deep wrinkles, creases between the nose and mouth, double chin, and issues with excess fat, all in one surgical procedure.
What To Expect from Facelift and Neck Lift Surgery in Seattle
Preparation for a smooth and comfortable experience begins in the days leading up to surgery through a program we call ERAS (Enhanced Recovery After Surgery), which has been proven to reduce stress, minimize postoperative discomfort, and ease emergence from anesthesia. Before entering your surgical suite, you'll first meet with your surgeon, an anesthesiologist, and our excellent nursing staff to gain comfort and familiarity with the entire team. At this time, you are free to ask any last-minute questions, discuss any concerns, and learn more about your surgical team. 
Your surgery will begin by receiving general anesthesia or IV sedation. For a facelift, incisions are made around the hairline and ears or just around the ears. If only a neck lift is being done alone, incisions are typically made around the earlobe, along the hairline, and down the neck. After the incisions have been made, liposuction, skin removal, fat transfer, or other techniques will be utilized, depending on your treatment plan. Then, the incisions are closed using skin glue or sutures. When the incisions fully heal, they are generally camouflaged by the hairline and hidden from view.
Once it's deemed safe for you to be released, you'll be sent home with prescription medication to help minimize your risk of infection and manage any discomfort. Although the recovery time differs for every patient, it generally takes about three weeks to recover from a facelift or neck lift.
Schedule Your Seattle Facelift and Neck Lift Consultation at PHASE Plastic Surgery
Our facial appearance is our first and direct communication with the people and world around us. A youthful facial and neck appearance absent of loose skin, deep creases, and jowls can have long-lasting, incredible effects on your self-confidence, resulting in better relationships and interactions with our community and professional opportunities.
Age with grace and reclaim control of how you age with a customized facelift or neck lift. To get started, contact PHASE Plastic Surgery to learn more about your surgical options. Our reputation is largely based on experiences and reviews from past patients, so be sure to explore our patient review section and learn more about our Seattle office. 
Call PHASE Plastic Surgery at (425) 776-0880 or reach out to us by sending a message through our website. Our practice is conveniently located in a suburb just North of Seattle for convenient accessibility.
Facelift & Neck Lift FAQs