Botox | Daxxify | Dysport in Seattle, WA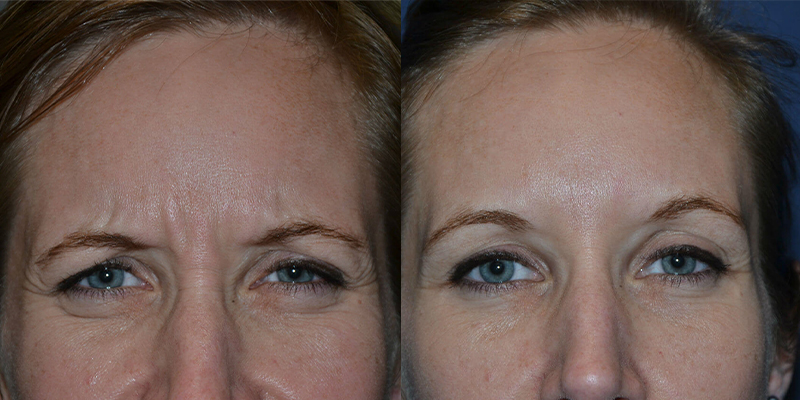 Signs of aging appear differently for everyone, for different skin types, and in different phases of life. Therefore, treatments or products that work great for one person may not be suitable for another. Botulinum toxin treatments have been at the forefront of aesthetic treatments for years. These treatments fight off common signs of aging by relaxing hyperactive facial muscles that cause premature wrinkles. Many people aren't unaware that there are different types of "wrinkle relaxers" that work similarly to Botox® but may be better suited for some patients.
At PHASE Plastic Surgery and Longevity Institute, we are a research-driven, science-based facility that implements different products to best meet our client's needs. While we love the results we can achieve with Botox, we wanted to expand our repertoire to better treat our patients.
Continue reading to learn more about Botox and its companions, Dysport® and Daxxify®, and how they can help you achieve a smooth, youthful, and radiant complexion without surgery. If you would like to explore more information or find out which one is right for you from a board-certified professional, schedule a consultation with our esteemed plastic surgeons, Dr. Richard Baxter or Dr. Donald Brown.
The first FDA-approved botulinum toxin, Botox, is derived from the bacterium Clostridium botulinum. Botox can reduce fine lines and wrinkles caused by expressions when used in controlled amounts. Botox works by temporarily blocking the nerve signals to the muscles, allowing the skin to relax and wrinkles to fade for 3 or more months.
Botox injections are widely used to improve the appearance of:
Dysport is another formulation of botulinum toxin type A, targeting fine lines and wrinkles.  Results from Dysport injections may also last anywhere from three to five months. Dysport is used to improve the appearance of:
Daxxify is also a Botulinum toxin type A neuromodulator. "Daxi" is made with a unique peptide, which enables the active toxin molecule to bind faster and stay longer. For this reason, the onset of the effect is rapid, but it may last up to twice as long. We were among the first in the country to have access to Daxxify because of our extensive experience with injectables and dedication to achieving excellent results. Clinical studies show that the median duration of effect with Daxxify is 6 months.
What Are Neuromodulators?
As previously mentioned, Botox, Dysport, and Daxxify are all neuromodulators containing the botulinum toxin. All three are used as cosmetic injectables that block nerve signals to facial muscles, preventing muscle activity. The most common muscle targeted is the "corrugator" between the eyebrows, where it causes the worry lines known as "11's." Relaxing the muscle with a neuromodulator removes the scowled expression, creating a more relaxed and friendlier appearance. Seattle patients seek this treatment to improve existing lines and prevent future wrinkles from forming.
Botox, Dysport, Or Daxxify—Which One is Right for Me?
When presenting our options for injectable treatments, we often ask whether one is more effective than the other. The answer is not necessarily. It depends entirely on the patient's needs, preferences, and overall budget. If you have been using Botox or Dysport for a while and are pleased with your results, there is no pressure to switch. However, if you have been using Botox and Dysport and find that your body is metabolizing it quicker than three to four months, you may want to try Daxxify.
The best way to decide between Botox, Dysport, and Daxxify is to consult a board-certified plastic surgeon or an expert nurse injector working with them. They have extensive knowledge of the complex workings of facial muscles and how to achieve aesthetic goals. With their expertise, they'll be able to help you decide which neuromodulator is best for you based on your targeted areas, your budget, and your individual goals and needs.
What to Expect from an Injectable Treatment at PHASE Plastic Surgery
At the start of your appointment, we will ensure you are comfortable and answer any questions about the procedure. Once ready, your specialist may provide a topical anesthetic to numb the area and keep you comfortable. Some patients don't require this, as Botox treatments are quick and relatively painless, but it can be provided if patients are uncomfortable around needles. Small injections of the product you've chosen will be strategically placed in the targeted area with a tiny needle. Typically, treatments only last around 10 to 15 minutes.
Meet Our Board-Certified Plastic Surgeons
Discover personalized and transformative aesthetics with our expert plastic surgeons, who combine artistry and scientific aptitude to make a difference. PHASE Plastic Surgery and Longevity Institute offers a personalized and collaborative approach, state-of-the-art care, and an on-site, accredited ambulatory surgery facility.  Schedule a consultation today and embark on a journey towards natural beauty and personal enhancement!
What to Expect After an Injectable Treatment
After your treatment, we encourage patients to avoid lying down for three or four hours to help avoid increased blood flow to the facial areas. You should also refrain from vigorous activities or exercises for 24 hours. It is also important to not rub or apply pressure on the injected areas, such as wearing hats or headbands, as this can also cause Botox to shift.

You should also avoid over-the-counter pain medication and excessive alcohol, as both contain blood thinners that can lead to bruising and irritation at the injection sites. When cleansing your face, use a gentle cleanser and the pads of your fingers without applying much pressure. Pat the skin dry with a clean towel, and follow up with your treatments and moisturizer, using as gentle pressure as possible.
Schedule A Botox Consult Today
Board-certified plastic surgeons Dr. Richard Baxter and Dr. Donald Brown, along with their highly trained experts, are well-versed, educated, and trained in injectable treatments. After conducting a thorough evaluation of your face, they'll recommend the best product to help you achieve your aesthetic results.
If you want to feel younger and refreshed, we invite you to schedule your neuromodulator consultation by contacting us today. Our team at PHASE Plastic Surgery and Longevity Institute. will be happy to help you better understand your options during your private consultation.