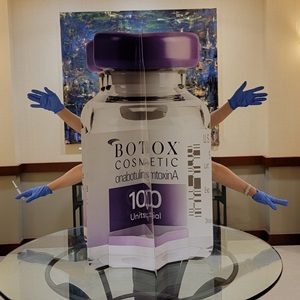 Botox® cosmetic, the leading brand of Botulinum toxin type A, is having an anniversary this month. It's been 20 years since Botox® cosmetic was approved and Allergan wants to celebrate! The official date is April 15, so I guess that means tax day is tox day!
Botox® has been around much longer (the molecule was first identified in 1897). It's first FDA approval was 1989, though not specifically cleared for cosmetic uses until 2002. There are other brands of Botulinum toxin A now, and more on the way.* Here's a high-level view, by the numbers:
# of published clinical studies on Botulinum toxin A: >1800 (At least 528 specifically for Botox® cosmetic).


# years of Dr. Baxter's experience injecting Botox®: 29.


# years expert nurse injector Lisa Machak: 20.


# approved indications for Botox®: 14 and growing. Botox® is approved for 11 therapeutic indications including chronic migraines, overactive bladder, and severe underarm sweating (hyperhidrosis) along with 3 official uses for Botox®. These include glabellar lines ("11's"), crows' feet, and forehead; approval is said to be coming for other areas (masseter, platysma).


# treatments given every year: 5 million, making it the perennial top cosmetic procedure in the minimally invasive category. Allergan reports that more than 100 million vials have been sold.


RealSelf worth it rating: 96% (based on more than 18,000 reviews).
# countries where Botox® cosmetic is approved: 95
Is there anything Botox® can't do?
Botulinum toxin A has proven to be one of the most versatile and effective products ever developed. Research reveals new potential applications on a regular basis, from skin rejuvenation to lessening the effects of seasonal depression to scar improvement. Another year and it can legally take you out for a drink!
*The generic term for Botox® is onabotulinumtoxinA; Dysport is abobotulinumtoxinA; Xeomin is incobotulinumtoxinA; Jueveau is prabobotilinumtoxinA; Galderma's RelabotulinumtoxinA is in clinical trials; and the brand name for Revance's yet-to-be released daxibotulinumtoxinA has not been revealed. [UPDATE: Daxi received FDA clearance in September 2022 and the brand name is Daxxify.] Botulinum toxin type B (Myobloc®) is approved only for certain therapeutic uses, and types C, D, and E are not commercially produced.