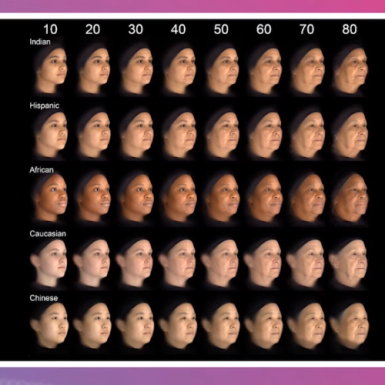 When you go to a plastic surgeon for facial rejuvenation, you expect him or her to recommend a plan specific to you. It may seem obvious, but standards of beauty and youthfulness are diverse, so it is important for your plastic surgeon to understand how the aging process varies by ethnicity and skin color, among other things. This has always been true, but the time has never been better to talk about it.
I recently saw a presentation on a long-running study from a research division of Proctor &
Gamble, whose subsidiaries include well-known skin care products and cosmetics. Working with Canfield Scientific (who makes the VECTRA 3D simulator that I use) they undertook a massive project to model facial aging in 5 ethnic groups (African, Caucasian, Chinese, Indian, and Latino) using 3D photography. Subjects ranged in age from 10 to 80, with 250 in each ethnic category. Using sophisticated computer programs to combine the images, they were able to determine how aging differs. Plastic surgeons can now take this information, add it to what we are already learning about the 3-dimensional changes in facial aging, and use it to refine our approach.
More than a DREAM: Driving Racial Equity in Aesthetic Medicine
Another collaboration was announced recently, called The DREAM: Driving Racial Equity in Aesthetic Medicine™ initiative to promote and inform diversity in medical aesthetics. Allergan (makers of Botox® and dermal fillers) and Skinbetter Science®, a medical-grade skin care product company, teamed up to develop resources intended to "advance equality and diversity in the aesthetics market." According to their press release, the project is a response to "the nationwide peaceful protests that have galvanized our communities in calling for racial equity in all sectors of society" and a desire to "make a tangible contribution to improving health equity." In addition to sponsoring development of resources for education on skin care relevant to darker skin tones for doctors, the DREAM Initiative plans to convene Forces of Beauty™ Summits to help identify different perceptions of beauty among racial and ethnic groups.
All of this is long overdue. It reminds me of a troubling observation I have made in my travels around the world: the models in ads for skin care and beauty products are almost always fair-skinned, no matter the color of the local population. The companies I mentioned here aren't the first to recognize this of course, and thoughtful plastic surgeons have always tried to be aware of the range of individual definitions of beauty. I know that I have, and I am thrilled to have even more resources now to back it up.